Unleashing the Power of AI: A Deep Dive into HubSpot's INBOUND 2023 Conference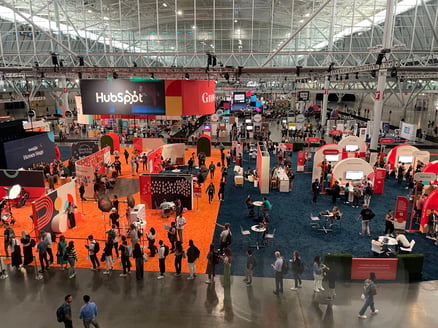 At the start of September, our team had the pleasure of attending one of the biggest events in the marketing industry - HubSpot's INBOUND 2023 Conference in Boston, Massachusetts. The annual event is a mecca for business, marketing, and sales leaders from around the globe, offering an unparalleled platform to connect, and immerse themselves in the latest trends and tools in the industry.
There's a lot to unpack from this year's conference, so, let's dive right in.
The Rise of Generative AI in Marketing
Marketers are increasingly harnessing the potential of artificial intelligence to maintain a competitive edge. At INBOUND 2023, we witnessed a defining moment - HubSpot's strategic pivot towards generative AI, unveiling a new suite of AI-powered tools that is set to reshape the way HubSpot users operate.
During his Spotlight session, HubSpot's EVP of Product, Andy Pitre, unveiled some incredible product updates, including the much-anticipated launch of HubSpot AI. This powerful set of AI-powered tools are designed to help marketers optimise their campaigns, streamline processes, and deliver more personalised experiences to their audience.
HubSpot AI: A Game-Changer for Marketers
In 2023 alone, HubSpot has rolled out over 200 updates for teams across Marketing, Sales, and Service Hubs. The introduction of HubSpot AI marks a significant leap forward in this journey.
HubSpot's new suite of AI-powered tools provide actionable insights and automate tasks, freeing up time for marketing, sales, and customer service teams to focus on strategy and creative execution. From predictive analytics to automated content creation, HubSpot AI is poised to be a game-changer for marketers.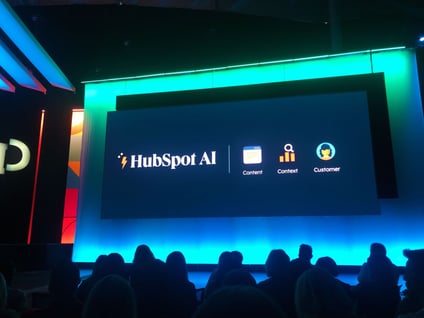 Leveraging HubSpot AI for Marketing Success
So, how can marketers leverage these HubSpot AI to their advantage? Let us guide you through HubSpot's latest features.
Campaign Assistant: Juggling multiple campaigns simultaneously? Say no more! The campaign assistant enables marketers to swiftly and efficiently scale campaign asset creation, be it social media posts, email newsletters, or landing pages.
Website Assistant: With the AI-powered Website Assistant, craft top-notch websites in mere minutes. Wipe off your worries about coding - this tool is a game-changer for marketers and developers alike.
Reporting Assistant: Unleash the potential of generative AI for in-depth data analysis. Spot trends, patterns, and insights, and whip up custom reports using intuitive natural language commands.
AI Chatbot

: HubSpot's revamped chatbot steps up your customer service game. It scans knowledge base articles on your website and dishes out instant answers to customers' queries, making it a valuable addition to your digital toolkit.

AI Forecasting: Currently in private beta, the forecasting feature harnesses HubSpot's predictive AI and historical sales data to project future sales. Early adopters have seen a staggering improvement in accuracy -

up to 95%

.
HubSpot's INBOUND 2023 Conference has once again proven to be a hotbed of innovation and thought leadership in the marketing industry. The introduction of HubSpot AI marks a significant shift in the marketing landscape, providing marketers with powerful tools to drive their performance forward.
As we look towards the future, it's clear that the role of AI in marketing is only set to grow. It's time for marketers to embrace these innovations to deliver better, more personalised experiences to our audiences.
Ready to supercharge your marketing strategy with generative AI? Read more about our services or book a free consultation with our team today and let's explore how we can help you leverage HubSpot AI for your business.